Complete Guide to the 2019 Monterey Car Week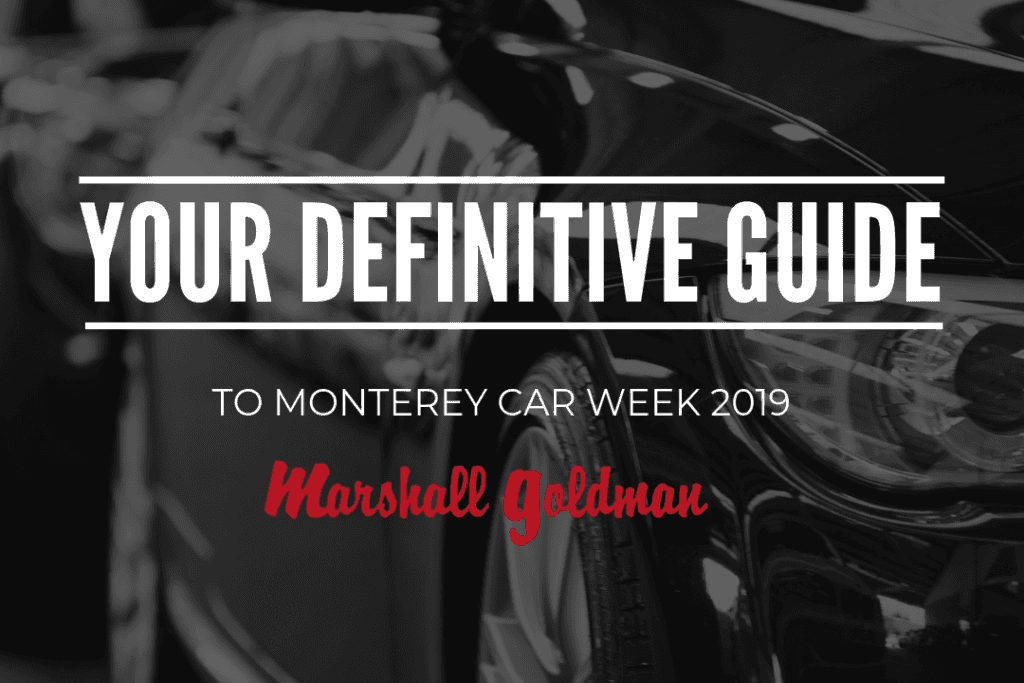 Thousands of deep-pocketed car collectors, enthusiasts, and fans flocked to the Monterey Peninsula this past month to gush over vintage racing relics, and have their eyebrows raised by the newest automotive artworks.
The car craze kicked-off on August 9th, and concluded with the traditional grand finale of the Pebble Beach Concours d'Elegance on August 18th. Monterey Car Week is traditionally marked with record-breaking sales, jaw-dropping first looks, and high-octane laps around the historic corkscrewed Laguna Seca Raceway.
Denoted as a "museum come to life," Monterey Car Week flashes the world's best in automotive development. From early racing models like the 1931 Studebaker Special (which made its first appearance in the public auction arena) to modern-day manufacturers like Acura unveiling new car concepts like the Type S, the 2019 Monterey Car Week will be remembered for two things. One, cars are still as beautiful as ever — classics remain some of the most highly desirable machinery on the peninsula, and new supercars are putting drivers behind an engine that has enough horsepower to jump start a medium sized planet. Second, high profile auctions still draw large and boisterous crowds.
So if you weren't able to make the trip, we're here to further fuel your California dreamin' psychosis. Let's jump into what took place at the world's premier week of car shows.
Bugatti Owned The Peninsula
Before we jump headfirst into the past week's auction details, let's ease into some of the pretty pennies found at this year's showcase. Bugatti has been getting a lot of attention for their latest creation: La Voiture Noire, which translates to "the black car." This design by the French supercar manufacturer is just as much an extravagant automobile as it is high-class art.
Only one model has been constructed, however, it is still roughly two years away from being completed for the buyer. That has not kept the 1500 horsepower mechanical masterpiece from jetting around the world for appearances. The Bugatti La Voiture Noire debuted at the Geneva International Motor Show back in March, but its appearance last week at the Monterey Car Week was the first time the $18.6 million car touched U.S. soil. This price tag makes it the most expensive new car ever sold. While Bugatti preserves the desired anonymity of the buyer, rumors have spread about who is the owner of the French jewel. Leading candidates include star soccer forward of Juventus Football Club, Christiano Ronaldo, and former Volkswagen Chairman and business mogul, Ferdinand Piëch.
Expanding on the specs of this automotive artistry, the Bugatti La Voiture Noire has 1180 pounds-foot of torque, with a 0 to 60 MPH in 2.5 seconds. The top speed caps at 261 MPH and is powered by a quad-turbo W-16 engine. While those stats are Earth-shaking as is, Bugatti still had room to flex the muscles of its engine system and increase the top speed. However, the decision to cut straight away speed was supplied by the desire to provide a better touring experience. Bugatti's Divo model also traded an unspecified amount of speed for better cornering ability.
Don't worry if you missed out on buying the La Voiture Noire, Bugatti also announced at The Quail Car Showcase in Carmel Valley, California, that they are producing their most powerful supercar ever — the Centodieci.
The Centodieci, which draws heavy inspiration from the EB110 of the 1990s, will deviate from the EB110's engine heritage and instead feature an 8.0-liter W-16 engine that houses 1600 horsepower. This means a 0 to 62 MPH time of 2.4 seconds, and a top speed of 236 MPH. While we always come to expect Bugatti designs to be beautiful, the Centodieci hits on all marks. The backside lightbar, stacked tailpipe system, and adjustable wing create one of the sexiest rear views seen in recent supercar memory. Bugatti is limiting production to 10 models and expects shipment to happen sometime in 2021. The Centodieci retails for roughly $9 million, with all examples already having buyers.
1950's Historic Racers Were a Sight to See
Heading into the week at the California peninsula, crowds were drooling over some of the 1950s racing titans that were up for sale. A decade that ran wild with innovation both mechanically and cosmetically, racing brands were pitted against each other unlike any other time in the sport's history. As some of the most pioneering race cars rolled across the stage, verbal "ooo's and ahh's" snuck out of the mouths of many patrons.
Traveling back into the past of a fellow supercar manufacturer, Maserati produced 52 examples of the 1954 A6GCS model. The 25th unit is estimated between $3.25 million to $3.75 million. We can't get over the looks of this red rocket. As one of the best looking cars you'll ever lay eyes on, the 1954 Maserati A6GCS is one steeped in rich racing revelry. A popular choice by young Italian racing divers in the 1950s, the A6GCS was and still is revered for its quick handling, high torque, and ease-of-use. Over the last 60 years, it has become one of the most coveted post-WWII racers. This specific unit offered during Monterey Car Week was retained by the Maserati factory for competition and driven in multiple races by factory racer Luigi Musso. Later in the decade, this example went on to race in the Argentinian circuit.
Piggybacking to a Maserati competitor, British manufacturer Aston Martin produced one of the finest racing cars of the mid-century. Their 1953 DB3S Works model not only featured transformative engine mechanics but is also one of the sleekest cars to grace a racetrack to date. Under the hood, Willie Watson, an assistant to great racing engineer, Robert Eberan von Eberhorst, crafted a lighter, quicker high-compression 3.0-liter straight six-cylinder engine that rivaled Jaguar's C-Type. This version auctioned in Monterey was the second of 10 surviving Works cars and won the Goodwood 9 Hours race in 1953. It was owned and driven by British racing legend, Peter Collins. The DC3S/2 still features the original factory chassis, engine, and body. It's no surprise that this stunning racing veteran is estimated at $8.75 million to $10.5 million.
Pebble Beach's Best of Show
Monterey Car Week is bookended by its spotlight event: the Pebble Beach Concours d'Elegance. On Sunday, the British car manufacturer, Bentley, ended a 54-year drought — winning 2019 Best of Show at the afternoon event.
The 1931 Bentley 8-Liter Gurney Nutting Sport Tourer, is only one of two models ever created. The 8-liter engine model was created to rival the Phantom II of Rolls-Royce. The Best of Show version, which was touted to reach speeds of 100 MPH, is said to best represent the guiding principles that Bentley founder, Walter Owen Bentley believed in. At this year's competition, Bentley, who is celebrating their 100th anniversary, made up roughly one-quarter of the contending car field.
Moving on to the car that picked up the biggest payout, a 1994 McLaren F1 LM-Specification sold at auction for $19.8 million. Modeled after McLaren's track racing F1 GTRs, the street-legal F1 LM-Specification uses the same GTR engine — a 6.1-liter V-12, which totals to 680 horsepower, compared to the 618 horsepower output by a regular F1. In addition, the LM-Specification adds an Extra-High Downforce Kit, front fender vents, and the F1 GTR 18-inch center-lock wheels.
As one of only 64 street legal F1s, chassis 018, is one of two models existing with the LM-Specification, which reaches 240 MPH and 8,500 RPMs. The car bought by a private American collector is the most expensive F1 ever sold at auction.
Rounding out the top five most expensive cars sold at Monterey Car Week include:
2. 1954 Ferrari 250 California LWB Spider (closed headlight) – $9.9 million
3. 1965 Ford GT40 Prototype Roadster – $7.65 million
4. 1965 Aston Martin DB5 "Bond Car" Saloon – $6.385 million
5. 1975 Ferrari 312T Formula 1 Race Car – $6 million
"The First Ever Porsche"
The 1939 Porsche Type 64, was one of the most anticipated cars to make an appearance at this year's Monterey Car Week. Built by Porsche founder, Ferdinand Porsche, the Type 64 was commissioned by the Nazi government for a race between the cities of Berlin and Rome, which actually never occured. The airplane metal creation is hotly contested by car historians and enthusiasts of its status as the "first-ever Porsche."
While some deem the Type 64 as the first Porsche to ever leave a warehouse, others pushback stating that the 1948 Porsche 356 is the company's first production vehicle. What can't be argued are the specs — powered by an air-cooled Volkswagen 4-cylinder engine, the car can maintain speeds of 80 MPH with a mere 40 horsepower. Rolling into Monterey, the Porsche auto was valued at $20 million.
The lineage of motors that make their journey to the California peninsula each summer is unrivaled, and while this season's car week was filled with races and new unveils, it will be remembered for the two biggest headliners: the 1994 McLaren F1 LM-Specification and 1939 Porsche Type 64.
For more car news and insight, be sure to follow our blog.