A Look at American Muscle Cars
American Muscle Car Legacy
In the 60s and 70s, American muscle cars began to take shape and arrive on the market, featuring powerful V8 engines and recognizable design. Advanced engines that produced a throaty growl that came to epitomize American muscle cars, along with track performance features helped muscle cars take their shape is time went on. Notable models that paved the way for muscle cars of the present include:
1968-1970 Dodge Charger
Ford Mustang Boss 302
Plymouth Road Runner
Pontiac GTO
Chevrolet Camaro Z28
Pontiac Firebird Trans Am
Building off the legacy of the American muscle cars of yesteryear, the modern assortment of muscle cars have not strayed far from their roots, while also bringing new and exciting features to the world of American muscle cars.
Dodge Viper
In 1992, the first Dodge Viper models rolled out into select showrooms around the country. Although originally short on flair, the '92 Viper could reach speeds of 165 mph and go from 0-60 mph in just 4.2 seconds. Through the '90s up to 2002, the first-generation Viper saw improvements on features, inside and out, as well as increased horsepower for both GTS and RT/10 models. The last models of the first-generation reached 185 mph and a 4 second 0-60 mph time. Through the mid- to-late 00s, Viper models saw improvements on exterior design and more powerful, V10 engines producing 500 hp. Though the Viper ended production in 2010, production resumed in 2013 and ended in 2017 with limited run GTS-R and GTC models.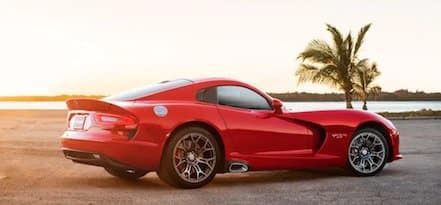 Corvette C2
Hitting showrooms in 1962, the Corvette C2 featured an impressive small-block engine and surprisingly smooth handling. Eventually, through it's rather short lifespan, the small-block engine was replaced with a more powerful 427 cubic inch Big-Block Tri-Power V8 engine. The exterior underwent changes as well, with the split rear window being replaced in favor on the single pane window. By 1967, when the C2 was ended and taken over by the C3, Big-Block Tri-Power V8 engine models were outputting upwards of 420 hp.
Current American Muscle Cars for Sale at Marshall Goldman Motor Sales
Marshall Goldman Motor Sales in Cleveland currently have the Dodge Viper, Ford Mustang, and Ford GT in stock. We are able to sell these American muscles cars both nationally and internationally for those who are interested, and we offer nationwide delivery. Our current inventory ranges in model years from 1994 to 2017. Contact us to learn more about about American muscle cars for sale, or visit our showroom if you're local to take a look in person.